Oak Health
Oak Health is an in person and online naturopathic practice. Oak Health's philosophy as a naturopathic practice is not to "treat" but rather to "coach," empower and facilitate people to make fad free, achievable, sustainable and practical changes to their diet and lifestyle (along with evidence-based supplementation). Alon works with his clients as a team to help them implement changes that will ultimately decrease their symptoms, improve their quality of life and make them mentally and physically robust, so that they can live their best and most authentic life.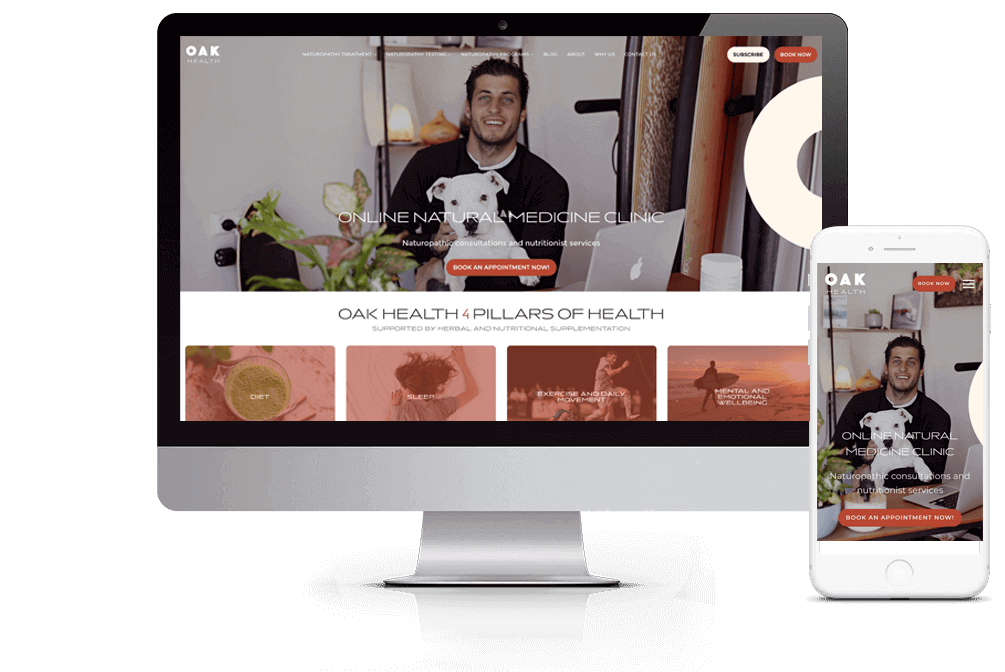 Project Outline
With a wealth of naturopathic industry experience and wellbeing at the forefront message and philosophy of the practice, Oak Health sought a brand and website to match their quality offering.
Digital Rescue
pointed Alon to its trusted industry peer partner for branding development while focusing on its niche strength of design and development & SEO Strategy through TopRankings. A blank canvas enabled Digital Rescue together with TopRankings to embark on keyword discovery and development of a comprehensive SEO Content Brief for website copywriting purposes.
A highly responsive and content writing productive client helped keep momentum to the project to move towards a
custom designed WordPress design
that positioned Oak Health for lead generation through an ongoing SEO Campaign by TopRankings.
Key Inclusions
Website Design & Strategy Consultation
Design Industry & Competitor Analysis
SEO Keyword Discovery
Sitemap Planning
SEO Content Brief Development & Project Management
Custom Web Forms
Stripe Payment Gateway Integration
WordPress Training Session

I have had experiences with other web developers in the past and most of the time you are just treated like a number. Not with Digital Rescue. Their customer service is outstanding.
Absolutely amazing! I am being genuine when I say that words can't describe how happy I am with my service from Noam and the team at digital rescue. I was referred to Noam by word of mouth and I am so thankful for this referral. From the very first moment I made contact with Noam, he was friendly, personable, professional and helped explain complex website jargon in a really user friendly way for me to understand. He was also super patient with me when I didn't understand things.
The biggest thing that came through for me was that he genuinely cared about my business. I wasn't just a number to him. I felt like my project really mattered to him and he made me feel like I was his only customer with the time and effort he spent on helping me. I have had experiences with other web developers in the past and most of the time you are just treated like a number. Not with digital rescue. Their customer service is outstanding.
He invested lots of time into finding out what I wanted my business to be and what I wanted it to represent. Noam also recognised what his limitations were for helping me and referred me to the right people when that was needed. These referrals were also excellent. This demonstrated he wanted the best outcome for me.
As we progressed with my project, Noam and his team always kept me well informed and if I ever had any question or needed help, I was seen to on the same day of my enquiry. Noam and his team worked so efficiently that I struggled to keep up with them!
Now that all the hard work is done, I am so happy with my outcome. My website and branding looks amazing. I am ecstatic and proud. Noam and his team have also trained me to understand and function the backend of my website. They have empowered me to take control of my own website, instead of having to be dependent on them.
I could not recommend digital rescue enough if you are looking for a very high quality product made by wonderful people who make the customer experience such a pleasure. Thank you digital rescue 🙂