The Spinal Research Institute
The SRI provide the means for spinal cord injury researchers to collaborate, and translate research into life-changing health solutions for people living with spinal chord injuries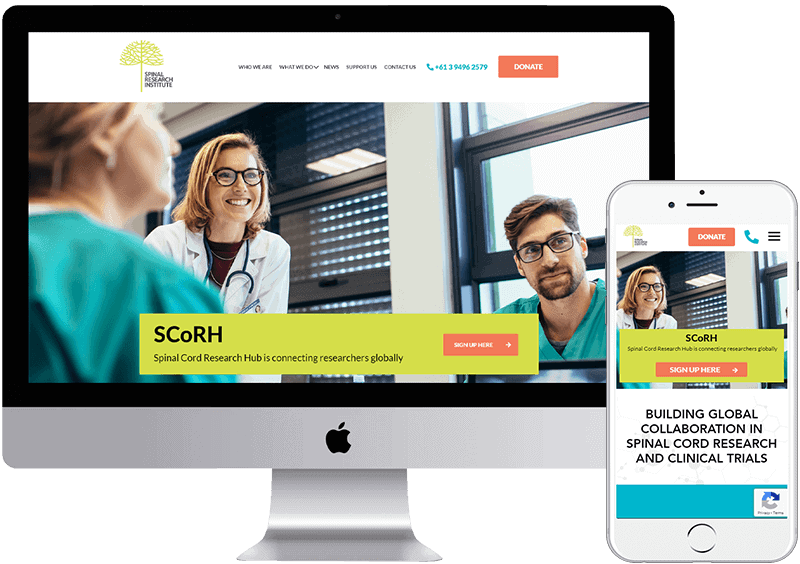 Project Outline
The Spinal Research Institute (SRI) are a non for profit organisation, committed to improving the lives of people with spinal cord injuries, by building global collaboration in spinal cord research and clinical trials. SRI reached out to Digital Rescue, and worked closely with the team at the discovery stage first, to help consolidate a large number of redundant content pages on their current website. In doing so, this helped bring to the fore a simplified yet stronger messaging of its core purpose and objective as an organisation, together with a stronger design and user journey for its website visitors. A fresh and clearer call to action design emphasis now conveys how the broader community and corporate organisations can contribute financially to help the organisation continue its contribution to the research and clinical studies dedicated to helping those affected by spinal cord injuries.
Key Inclusions
Industry & Competitor Design Research
Mobile Responsive Design
Content Strategy Consultation
CTA Design

Our organisation had a great experience with the team at Digital Rescue.
They worked with us to really understand what we were trying to achieve with our new website; the collaborative nature of the engagement meant the design and development process was effective and efficient, and they were always responsive to our requests. They were a pleasure to work with.